Bodies come in all types, shapes and sizes.
There is beauty in all body types!
When I was in my teen years I was known for my shapely legs. However, I always felt self conscience about my thick thunder thighs, full hips and ample bust line. I was thicker, much thicker than all of my friends. I was always the big chick who 'carries her weight well'. What does that mean? It felt like a nice way to say fat. At 5'8 1/2 " tall with a medium-large bone structure, I was 135 lbs. wearing a size 9 Jordache jeans with my hot pink comb tucked in the back pocket.
Other girls could walk down the hall in a way that made them seem like they glided. Things moved on me when I walked. I could not walk without a definite hip shaking Kaboom-Kaboom. Impossible to enter a room without being noticed. I look back at pictures from those days and I'm sad for the girl who thought she was fat and wanted to blend in to the crowd. I'm sad that she didn't know how to celebrate her body and how she was created to move. I'm sad that she wanted to be something she was not.
You see, she and I have a lot in common these days. I'm currently the smallest I have been since I was 20 years old. Wearing a size 14 makes me 'average' in size. I am trying to get my mind around the idea that I am no longer the biggest person in any group. I don't cringe when I see my body, even my saggy parts. I see parts that are have more muscle tone than I ever remember having. I see parts that have more stretch marks than my youthful body had. The stand out thing I see is the curve at my waist and the smooth curve out to my full hips. There is no denying, I have curves. I am an hour glass body type . . . a large hour glass than when I was younger, but the shape has not changed. What has changed is, I love my curvyness. I celebrate the effort it has taken to make it more tone, I celebrate the stretch marks that record the battle I have fought with eating disorders and weight gain. Those are my battles. I wear the scar, I celebrate the victory.
Today I celebrate the curvythick girl I am and embrace the way it sways and moves.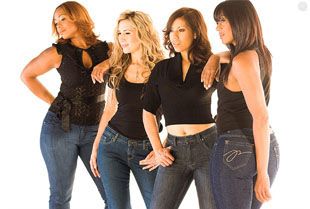 And this is the rhythm my body is moving to these days!
www.youtube.com/watch?v=
WNCC7tIcChY
Enjoy and get your groove on girlfriend!