On July 4th I ran a 5k with my hubby. I did not have on my garmin and had no way of know my pace . . . I was going with feel and flow. At the first mile marker, someone called out my time. Wow! I'm a minute and a half faster than my usual race pace. But the first mile is the easiest part of this course. At the second mile marker, after climbing a steady grade hill that leaves many walking, I hear my two mile time . . . lost 30 seconds over the first mile time, but still respectable! But I know this course. I know the beast that is the last mile! It is a series of three hills that consistently increase in grade.
I was able to run, even up the hills and tried my very best to sprint in the finish. I felt like I was going to puke! I don't know if it was the heat, the humidity, the pace or the course . . . but I was trying very hard to not toss my breakfast! I had a sense of elation that I had just done a personal best on the hardest 5k course I have ever ran!!! We hung around for the awards ceremony because we thought I had a good chance of placing in my age group.
They call the third place winner, but do not give her time. They call the second place winner and again do not give her time. My hopes are dashed, I know I'm not a first place runner. They call the first place winner and her time was only one minute faster than mine! For a moment I think there must be a mistake! Certainly four of us in the same age group didn't come in within a minute of each other! Could we?
For a moment I retrace the entire course in my head. I was very pleased that there was not one place on that course that I felt I could have ran it any better than I did. I ran my best race, I laid it all out that I had to give on that day. I walked away without a trophy, but with a huge smile on my face . . . I was within 1 minute of the winner! And I ran my very best race! No regrets!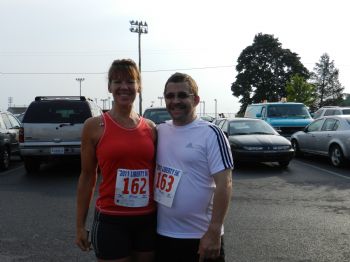 Hubby and I before the race!
Sweaty, stinky girl trying not to squint into the sun!
Live life full throttle, with not regrets!