It has been a crazy busy wonderful summer! And it just keeps getting better. Well, I don't know that to be true. . . the cumulative goodness is amazing, but each individual event is uniquely deliciously wonderful! I have had the privilege and blessing of meeting some of the most awesome people this summer and spending time doing the most amazing things. I have taken pictures almost every day to help me capture some of the yummy I have experienced this summer. I have shared most of those pictures along the way and will do a brief recap at the end of the summer.
Right now I am unpacking from my most recent trip. A weekend long YogaFit workshop about three hours from my house. We stayed in a hotel over the weekend, and it is a good thing we did! Workshops ran from 8 a.m. - 6 p.m. Sat. and Sun. I was exhausted after Saturdays session and starving! I rushed back to the hotel to meet up with my hubby and walked the five blocks to the restaurant!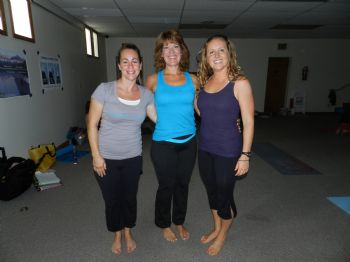 YogaFit workshop instructors, Shannon and Macy! Super sweet gals! They lead us through the most amazing yoga flows! Loved it!
For dinner, hubby and I went to the same restaurant that we had gone to on Friday night, because they serve the freshest, healthiest foods! All locally grown and raised, prepared fresh and delicious!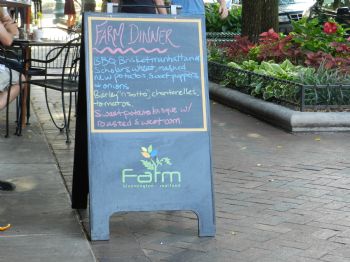 We ate out on the sidewalk patio area to enjoy the college town atmosphere and fresh air. But, the inside of the restaurant was so homey and lovely!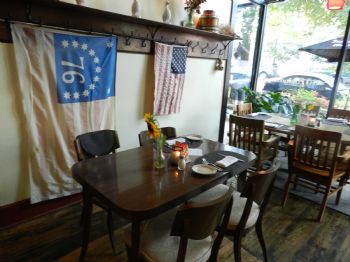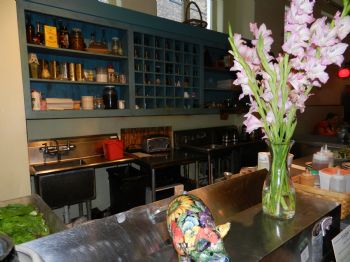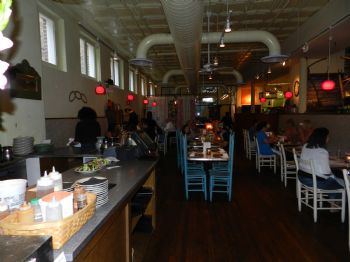 Saturday night was my pescatarian night. For those of you who don't know what that means, pescatarians are basically vegetarians who eat eggs, fish and dairy. I am not currently doing any dairy during the summer. In June I changed to a pescatarian diet while doing two weeks of hot yoga in Michigan. I have been following what my body needs on any given day and honoring what it needs. While in Virginia, I switched to be more raw vegan two - three days in a row and then have fish and eggs on the third day. I have not made any hard and fast rules about what I will eat or will not eat. As long as it is clean, whole, unprocessed foods, they are fair game. However, at this time this is what my body wants and I am feeling marvelous.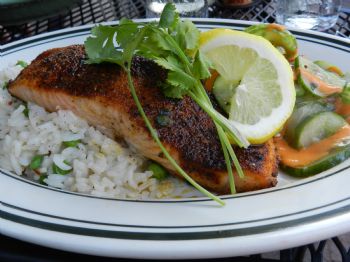 Delicious! The cucumber salad had a fresh habanero sauce on it! I think the salmon fillet had a jerk rub on it and the rice had coconut in it. Yummers!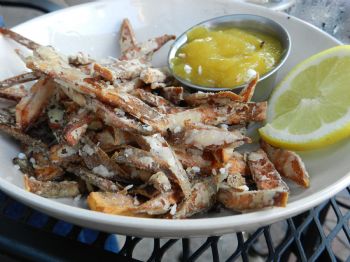 Sweet potato fries w/mango ketchup! This was our appetizer while we waited for dinner to be prepared.
I am currently in the process of unpacking my car, washing my laundry and repacking a suitcase for my next adventure! I am heading to the San Francisco area of California for a couple days! My hubby is out there on business and I get to go out to spend some time with him and to meet a couple more of my spark buddies! I am so excited!!! So much to see and do and such little time to do it all in!
The day after I get back from California, I am speaking at the university about clean eating! Such a hoot! When I was younger I was such a chatter box (still am) and even got dubbed Chatty Cathy at one point. . . . people would have paid me to please shut up! And now, I am getting paid to speak! LOL!!! Life is good!
I have so many things coming up in the next couple months!
Aug. 1 return to work part time
Aug. 13 is my duatholon - run .6/ ride 15/ run 3.1
End of Sept. - vacation to Hilton Head, SC
Oct. - teach an all day workshop (yoga/clean eating/boot camp workout)
Nov. - visit a friend in Seattle Wash. and cheer her on in her quest for her dream!
Oh, and somewhere in there I need to do my 8 hrs. of community service for my yogafit certification. I will be sharing yoga with people who would otherwise not be able to afford classes. I have not yet decided where or when or to whom I will be sharing that with. Maybe a womens shelter, the YMCA or right here in town through the Helping Hand Ministry. Here is all I do know, when I am willing and the timing is right, God will open the doors to where I am supposed to be and what I am supposed to be doing.
Be brave, be bold, be fierce and be fabulous! Be YOU!!! You are already amazing!