I truly am blessed. Not that anyone else is any less blessed that I am, but I truly value the blessings that I have received. I am blessed to have good health. I am blessed to have wonderful friends. I am blessed to enjoy an active lifestyle with those friends. I am blessed by the gorgeous weather we are having in Virginia during my visit. It has been amazing! I could list 25 blessings without a problem, 50 with some thought.
In this week I have gone bowling with friends from high school.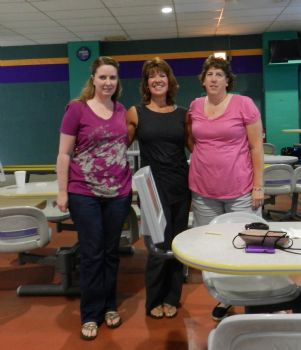 Went to the studio of my first and favorite yogini (Jennifer, on the left).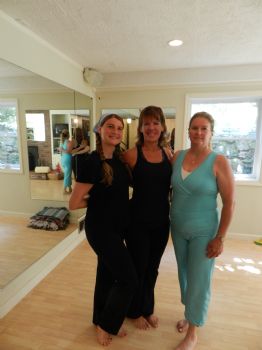 Debbie (on the right) and I had the blessing of being led through a very divine yoga session. It is always divine with Jennifer. We later had lunch together and went to the pool. I shared with her my hopes, dreams and wishes. She affirmed everything I knew to be true and just helped solidify my path.
Earlier that morning I had met up with a dear friend, Maria, for a five mile run. We talked the whole way!!! I have missed her. We have a lot of the same interests and philosophies about health and fitness. The only thing I regret is that I did not take a picture of us after the run! I am meeting her again this week to run, so I will be sure to get one then.
On Thursday I met up with Amy (Fitchick75) to do a bike ride on the W & OD trail. Little did I know that we would end up riding 28 miles. The first 14 were a piece of cake. They were on the down hill grade. By mile 22 or 24 I was whimpering and having to stand up on the pedals to crank it up the steeper grade. My thigh muscle, right at the attachment at the top of my kneecap was killing me. I should mention that I have only started riding again recently and my long ride was 10 miles last week. We had delightful weather and great conversation.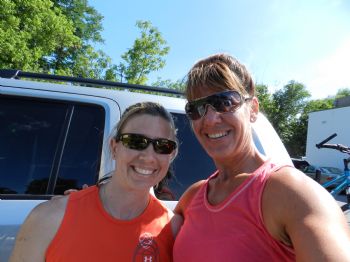 I was starving after our bike ride and had seen a Mediterranean Restaurant on my way to the bike trail. It was a good call! The food was delicious and the weather was so delightful, we ate on the patio. Sorry, I can't find the picture I took of my salmon platter (yes, she is still eating fish!).
Yesterday I was blessed to have the opportunity to meet up with some of the gals from our Fabulous Fitness Facebook group. Carla, Lisa and Amy all live in the area of the park we met at (well, within a 40 min drive). Tiffany made the longest trip, she traveled four hours!!!! Wow! I love her commitment, not only to her health, but to her community of support. Building these networks of support, encouragement, inspiration and motivation are vital to long term success. If you are not currently building that network, I encourage you to plug into one that supports the new lifestyle you are building, otherwise you are just dieting and it will be hard to sustain.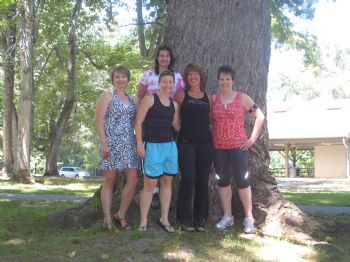 Tiffany, Lisa, Amy, Carolyn and Carla (sorry, I don't have everyone's 'stage' names memorized!)
We started off with a time of yoga, as peaceful as one can accomplish in a very busy park with vehicles whizzing by. It felt good to share something that I enjoy with others. We then enjoyed a packed lunch together. During one of our health/fitness/wellness chats I was sharing with the ladies the value of knowing that you are precious and loved without having to be perfect or DO anything. Right on cue as if I had paid them, these two little boys came over to the table and said "He wants you to know you are beautiful". I was in such shock all I could do was smile with delight at how precious they were. . . . 5 year old boys with a playground full of friends came over to address a table of women (30's - 40's). How very precious is that?!!!
After our three hours together, it was hard to want to leave. I just wanted to spend time with each one individually to get to know them better and help them in any area they may need support or encouragement. However, I did have a schedule that day and needed to respect the schedules of others I had made a commitment to. So, we said our good byes and gave hugs.
I followed Amy to her gym where I promised her an hour of torture . . . I mean love! I wanted to share with her some of my favorite lower body workout plans. I will share some of those gym pictures in another blog. But here is a shot of us before the meet up in the park.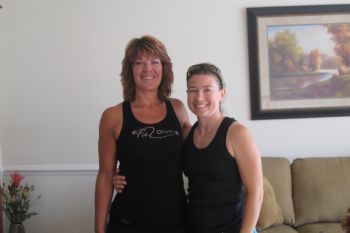 We take one photo each time we get together for a workout, this is our third and personally my favorite photo of us.
To cap off this fabulous day, I met up with a friends from high school to do some hiking and boulder climbing on the Appalachian Trail. I would call it hiking, but you might think we were just walking on a path . . . I promise you this was a workout! A very enjoyable one, we had to pay attention to every foot placement. I have no picture of us together at this time. But I do love a lovely picture of the view.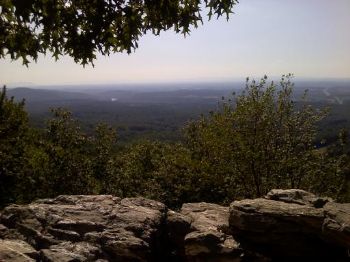 The time has been full and fabulous. I love my family and my friends. I am so blessed to have the health and strength to enjoy this fabulous lifestyle and to have made friends to enjoy it with. Mostly, I am blessed to know the value of these things and for that I am grateful that I was 267 lbs and had very high blood pressure. Had I not known such great pain, discomfort and sadness in my soul, I am pretty sure I would not delighting so greatly in being me at this time.