I am soooo glad that I challenged myself to pack that cooler yesterday, even though I have the summer off from work and am not traveling this week. I loaded up the cooler with all the foods, drinks, bars, and supplements I would need for a normal work day with a workout after work. So, everything except my breakfast and dinner were in the cooler. You want a peek?
Sure, everyone likes visuals!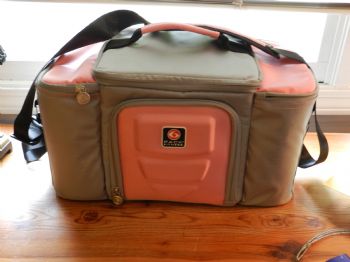 This is my new cooler, in case you missed it in a previous blog. It is from 6Pack Fitness.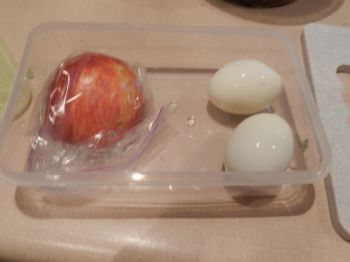 I did a mid morning workout. This is my post workout snack, 1/2 a gala apple and two hard boiled eggs.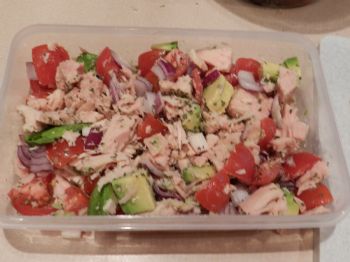 Lunch was albacore tuna, 1/4 of an avocado, tomatoes, red onion and cilantro squirted with lime. So very delicious and just what my body needed.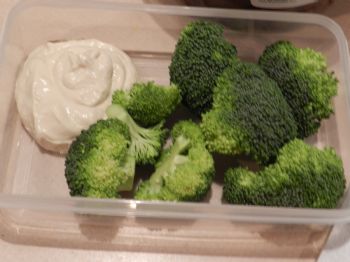 This was supposed to be my afternoon snack, but I was not in the mood for this. I had cottage cheese with strawberries and almonds. I ate the broccoli and hummus with tilapia for dinner.
I am so glad I had the cooler packed and put it in my car when I headed to the gym. Because nothing went as planned! Since it was storming outside, I decided to go to gym form my duathlon training (run/ride). I have not been to the university gym in months. When weather is nice I run or ride my bike. I have been going to Anytime Fitness (25 minute drive) three times a week for weight lifting and twice a week for Zumba and Yoga.
Since this is a simple treadmill run and use of the spin bike I decided to stay local. I get to the university gym (KSAC) and it is thundering and raining hard. I grab my bags and run to the door as it starts lightening. When I swiped my card, there was no beep to let me in. I want in quickly, I do not like lightening. I swipe again, no beep. SUMMER HOURS STINK!!!! The KSAC is opened from 5:30 - 8:00 a.m., 12:00 - 2:00 p.m. and from 4:40 - 7:00 p.m. in the summer time. UGH!!!! Not my plan to have to drive somewhere just to get a run/ride training in. But weather does not permit my first choice, the second choice is closed, thank God I have a third option and a packed cooler.
Training went well. I am glad I decided to start combining the two for at least one training a week. I will still be doing one longer bike ride a week and one long run (I am also training for a half marathon for this fall). I have my cross training lined up using my TRX and some circuit style trainings. You may remember that I do a style of training called periodization. This is my more active time of year where I do more cardio, more circuits, lighter weights and lots of sunshine! In the late fall and all winter I do heavier weights and more sprint interval training on an indoor track.
My training yesterday was to run .6, ride 5 and run 1 mile. It seemed simple enough. I have ran much MUCH further than 1 mile and have rode my bike more than 20 miles. I wondered if maybe I was setting the bar too low. The .6 felt good, I didn't push the pace too hard. The 5 miles on the exercise bike was harder than riding my bike up hill. They don't have a spin bike at the gym, so it was an upright exercise bike. Used a lot of quad muscle. I wasn't sure what my resistance should be so I set it at a 9 and tried to keep a steady pace that kept my heart rate up around 150 bpm. I was sweating like crazy. Left a huge puddle around the bike! Then I jumped back onto the treadmill to run a mile at a nice steady pace. My legs felt like bricks in the first half mile. Note to self, maybe it would be beneficial to do a quick quad stretch after getting off the bike (waste moments to gain minutes). My body seemed to relax and enjoy the second half mile and I was able to pick up the pace and then accelerate again in the last .2 of the run. My time yesterday was 40:11. I will continue to build my stamina, decrease my time and then add distance each week.
After my training it was so nice to have that apple and those eggs waiting for me, along with a cool thermos of water. The cooler kept everything nice and chilled all day. even the things in the side pockets were nice and cool. In the side pockets I had two bottles of water, one protein shake and there is a pocket to put things in like protein bars, so I had a Lara Bar there as a back up snack. I always carry just a little more than I think I will need.
Oh, the planning part of this title. I am not officially registered to get my YogaFit certification on July 16th!!! This combined with my current certifications will help me get just one step closer to my RYT (registered yoga teacher) with Yoga Alliance! I am so super happy about that!!! I need to start looking for opportunities to do 8 hrs. of community service (free yoga) at somewhere like a women's shelter or a wellness center to complete the requirements for the certification. How awesome! Give and receive!
That's it, I'm packed and planned for wherever this trip leads!!!! BTW! Today is my 2 year life transformation anniversary!!!!!!!!!!!!!!!!!!!!!!!!!!!! Holla!