I love reading. The process of discovery with each new chapter. As I read, my thoughts are learning a new way of looking at things, a new perception and application of thoughts, feelings, ideas. On Sunday morning, the morning of my youngest sons' wedding, I wanted to start the day in a way that was meaningful and significant to help me turn the page.
I got up early, did a workout and went for a two mile run with my husband. The workout I did is call The 100. You do 100 Jumping Jacks, 90 crunches, 80 squats, 70 leg lifts, 60 Jumping Jacks, 50 crunches, 40 squats, 30 leg lifts, 20 Jumping Jacks and a 10 minute run. Instead of the 10 minute run I asked my husband if he would like to go on a morning run with me. It was a beautiful morning. The sun was shining, it was warm enough to just wear a tank top and running shorts.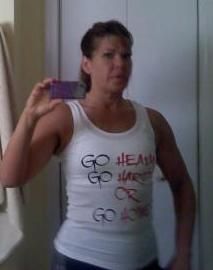 We ran my favorite route, through the college campus where our son had been a student for the past four years. This is the reason we moved to Indiana, to work for the university and help him through college. This campus is where he met his fiancee. This campus is where I have ran, rode my bike and sat by the lake journaling through the past two years.
Later in the morning we were blessed to host our son and most of the wedding party for brunch, as well as the parents and grand mother of the bride to be. I do love hosting people and making them feel welcome in my home. My house is not large or lavish, it is very simple but comfortable. This home has served as a home away from home for many college students over the past 4 years. As we were approaching the house on our run this morning it struck me that our house was also going to be transitioning to the house of a family (a couple), instead of dorm parents. Our son would be moving into his own apartment and his friends would be visiting him there. It is a small town and his apartment is only a mile away. He will still be working right across the street from my office. I will still see him on a regular basis.
In the afternoon we got all dressed up and headed to the church for formal pictures. We snapped some pictures of our own so we would have some to share with family and friends.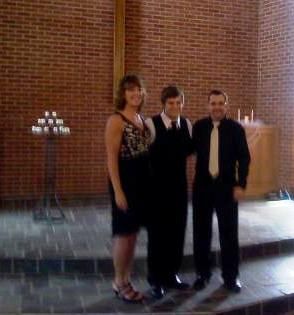 Proud parents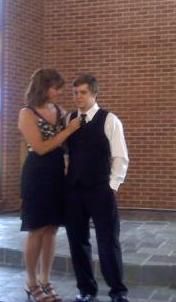 I adore this young man.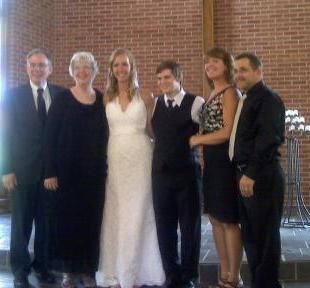 Extended family to love and pray for this special couple.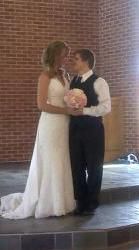 This beautiful woman vowed to be his biggest cheerleader, as a mom who has been his biggest cheerleader since the day I first saw is beautiful face, I gladly welcome more love to be showered into his life. The only time I teared up during the wedding is when he read his vows. He has always been a very loving, kind and attentive young man, and to hear him express his love for his wife . . . well, I just have no words to say how it made my heart well up with even more love for him.
Today my husband left for a business trip. And I took my girlfriend back to the airport. On the drive back home it hit me. All the emotion of the weekend. The graduation, the parties, the wedding and now an empty house. I am not sad. I am overwhelmed with joy. As my car is pulling in the drive, there is a film playing in my head. I see a snapshot of my sons face the day he was born, the day he graduated from preschool, the day he graduated from Powhatan (private country day school), several little snippets of time of him playing guitar, listening to music together, the day he graduated from high school, the day he graduated from college and the day he read his wedding vows.
This is a new chapter. Something that started between my husband and I almost 26 years ago, as our story, is now part of a new story. We are a bigger family, with more depth, richness, fullness. My heart feels so full. At the same time, I felt the need to transition in some way. I did not want to be alone in my house tonight.
I had planned to go to the gym for my regular Monday night lower body workout. I needed to workout. But I also wanted to honor this feeling I had to connect with others. So, I went to Zumba class and then a yoga class. I needed to feel the positive energy of other women. It was just what I needed. I will admit that when the lights were off and we were doing yoga, there were moments I just rested in child's pose, said a prayer of thanks and cried a few tears.
It's a new chapter. Opening this chapter, does not mean that the chapters before it are obsolete or in anyway unimportant. All the moments that led up to this moment make this moment all it was meant to be. We are who we are because of where we have been and the life we have been blessed to share.