I am on a travel along 'vacation' with my hubby in Michigan. He is here on business, I am off work for the next two months, so I am tagging along. This is the perfect opportunity for me to catch up on some reading, writing, goal setting and relaxing!!!!
About a month ago I joined Anytime Fitness and there is a facility just a couple miles from our hotel. Our hotel room has a kitchen in it, so we did our grocery shopping for the week as soon as we got here. Whenever we are on vacation or traveling, I purposely choose menus that repeat similar ingredients to save money and prevent waste. I pack some things from home (spices, condiments, cooking spray, olive oil, oats, protein powder, grilled chicken breast and any fruit that might go bad while we are gone).
Here is a peek at our grocery haul for the week: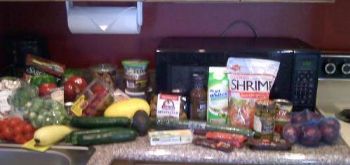 zucchini, yellow squash, spaghetti squash, cucumbers, apples, watermelon, avocado, spinach, salad greens, peppers, red onions, brussel sprouts, eggs, egg whites, chicken meatballs, turkey sausage, sunflower seeds, balsamic vinaigrette dressing, mushrooms, tomatoes, feta cheese, basil, mozzarella, greek yogurt, fresh salsa and a few Lara Bars for my gym bag.
After stocking the kitchen, DH and I went for a nice walk in the park which is walking distance from the hotel. We were mapping out areas for potential runs this week. I spied a couple places by the lake that I will be sitting tomorrow to enjoy some sunshine after lunch. I have my day mapped out for tomorrow. I will go to Target in the morning to get two little lawn chairs that sit low to the ground and recline. Then I will go to Anytime Fitness to get my upper body workout. After a nice bath and lunch I will go to the park to enjoy some sunshine, study, read and write.
The weather is just gorgeous. It is hard for me to stay inside!!! I had planned to catch up on some blogs and do some cooking, but it will have to wait! As long as the sun is shining this girl is outside as much as possible!
The best part of my plans this week is that while I am at the gym getting my workout, or down by the lake reading . . . someone else is cleaning my room, doing my dishes and making my bed! How awesome is that?!!!! And, it is a business trip for my hubby, so it isn't costing me a dime! Love it!!! I could get used to this life!
What are your summer plans? Do you have a vacation planned? A goal you are working towards?