Well, I don't want to jump the gun. Today is the last day of the plan. I do not 'officially' graduate until I have completed this day. But, if I have not gone off plan in 27 days, I don't think I will be tempted to do so today.
I have been reflecting back to see some of my favorite foods and lessons learned over 28 days. The plan isn't really all that different than what I had been doing, other than I couldn't have greek yogurt or my favorite granola. Breakfast was about 2/3 of what I would have usually eaten for breakfast and I didn't have sweet potatoes nearly as much as I usually do.
I will be doing my measurements in the a.m. and posting my before/after pictures for the 28 days, on Monday. Hubby is out of town so pictures will have to wait until my neighbor and friend, Carie (HOTLIKEHUBBY) can come down to take them for me. Funny how she is the only one I would consider allowing to take these pictures when I then post them for all of YOU to see! Something about being 'in person' and posing seems too personal.
What I have learned is that it is a good thing to try new recipes, even ones that you don't think you would like. I would have been more likely to stick to the 'concept' of the menu without sticking to it exactly, had it not been for the fact that I wanted to give you guys a full fair and accurate report on the plan. Although I did make a few minor substitutions, I did stick to the plan at each meal of each day . . . other than last Friday when I got stuck in Indy way late in the evening shopping and didn't have enough food on me. I was disappointed to not make it home in time for dinner because it was one of my favorites. . .
Salmon with Sweet and Tangy Pineapple Chutney, farro and sauteed kale!
I made the best substitution I could while driving. I got a tuna wrap from Trader Joe's that had albacore tuna, loads of spinach, tomatoes and egg in it. The wrap was not on my plan (no bread products on the 28 day plan), but it was whole wheat with flaxseed and I tore off all the excess so I only had enough to act as the carrier of the tuna salad. I also had two pineapple spears and a bottle of water.
The next day I was excited because, even though I had missed my favorite dinner, Saturday's lunch is leftovers from Friday night!!! BUT, a friend was in from out of town and wanted to go to lunch. I decided that I would just make the best choices I could with the menu. I ended up ordering two plates of food so I could combine them to get the meal I needed. I got a greek salad (hold the croutons) and a salmon burger platter, hold the potato chips. I used the salmon burger on my salad. The portion was larger than I should have eaten, but tasted delicious!
After these meals I employed a couple 'tricks' I know to help me to release extra fluids and to keep me from feeling puffy. For the next two days I drink lots of water with lemon. I make a big two quart pitcher of water with 1 lemon, 1 cucumber, fresh ginger and fresh mint leafs in it and loads of ice. I drink the whole pitcher in one day (it has to marinate for 4 - 5 hours before you drink it. Ginger and mint both have anti-inflammatory properties to them and help sooth your digestive tract after eating heavy foods. Lemon and cucumber both help with elimination. 'Nuf said.
Had I not been on the Stripped plan, there are a couple more 'tricks' I would employ. Such as eat more potassium the next day by eating almonds, salmon, dried fruits). Every cell in you body has a sodium/potassium gate on it to allow fluids in and out. When you are retaining too much fluids due to high sodium content of food, you need to increase the ratio of potassium to sodium to get the gates to open and release fluids.
During the past 28 days I also learned how very vital my support team is to my accountability and success. I have a core group of 6 (including me 7) who I chat with daily and am accountable to. We check in with each other to share what our workout of the day is, what our goals are for the day and to share our celebrations. It kinda feels like when you were a little kid and you got a gold star on your page and you couldn't wait to go home and show it to your mom. When something good is happening for me, I report to the core 6 first. They are like my sisters and celebrate with me. It also holds me accountable to them. If I tell that that Monday night is my Boom Boom Pow workout and they encourage me to go heavy and give it all I got . . . guess what, it is next to impossible to not what to exceed my goal for that day.
When I started the 28 day plan, I had a dual purpose. One was to prove to myself what could be done with focus. The other was to help Amy (Fitchick75) to have a plan to stay in the best shape possible during her recovery from surgery for an abdominal hernia. I had told her that nutrition was 80% of the equation to keep her body fat down and to keep her from losing muscle mass during her recovery. She could not exercise at all for a couple weeks and that could drive a fitness freak crazy. So, instead of focusing on what she can't do, I wanted her to focus on what she could do. We were accountable to each other every day. We both carried around that book like it was the bible. When I didn't have mine with me and was at the store, I would text Amy and she would give me a list of foods needed for a recipe. She always had the book handy, if I didn't.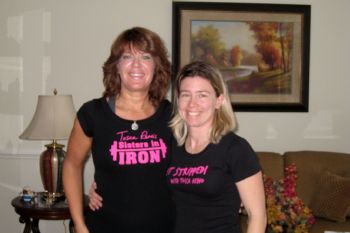 We are Strippers!
If you choose to start a plan, whether it is training for something or a meal plan, I encourage you to find an accountability partner who will do THE SAME plan with you. You will be challenged, encouraged and motivated to continue knowing that someone else is doing the exact same thing.
I am working on writing up the plans for the next 28 day challenge and will be explaining how to 'strip down' a plan and make it work for you. Several have joined the challenge on Facebook. I am hoping that each of them will find someone on the team that they can relate to as we post daily what are plan is for the next day and then come back and talk about how we executed that plan. Use the group as a way to figure out what is working and what is not.
I will be posting the challenge information on the Spark Fabulous Fitness team as well. I encourage you to join in on the fun! The next 28 days could change your life!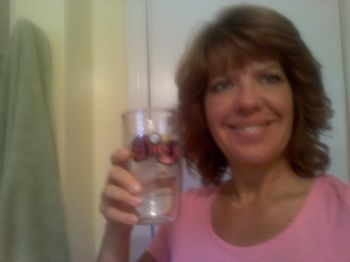 Live beautifully! Be YOU!