Amazing day!!! It has been a bit of a rough week, but today was amazing. On Friday I could feel my body was trying to fight off something. I am very sensitive to what my body is telling me and have a funny relationship with it. It talks to me and I try to tune in and listen. I know, weird! But, mine was telling me it needed to be nourished and nurtured with special care on Friday. Since Friday is my day off, I spent most of the afternoon propped up in my bed drinking herbal tea and reading. I even got a nap.
Thankfully, I was able to sleep a full eight hours last night and woke up feeling better than I had in a couple days. As I turned on my computer, I realized that today is the third Saturday of the month . . . the indoor farmers market is open! I can get some locally raised, grass fed, organic meats and eggs! Once I made that realization, it was mission on! I got a warm bowl of oats with berries for breakfast.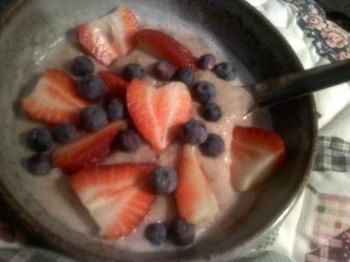 I love the way sliced strawberries look like hearts!
I washed my face, pulled my hair back in a ponytail, pulled on my new yoga pants and flip flops and was heading out the door in no time flat to get started with my day.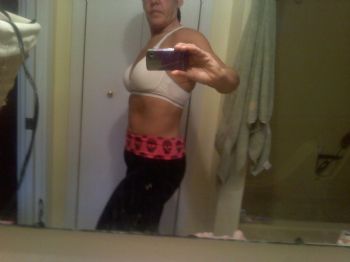 Had to snap a pic because I felt lean this morning. The scale agreed! 156 this morning!
Just throwing on your clothes and running out the door might be normal for some folks, but I'm a hair and make up girl! But, I can waste too much time doing that on a Saturday and I needed to get some cardio in today as well.
I packed my snack, nuts and fruit to eat while I was shopping. I met the most amazing people there! I meet the local sheep farmers (2). And I found out I like sheep or I guess it's actually called lamb. I had a bite of ground lamb meatballs . . . delicious! I asked the lady for the recipe and she didn't have a copy of it, but showed me the recipe. I pulled out my cell phone and took pictures of the recipe page. I also bought two dozen eggs from her.
The next booth I went to, also had lamb! Their samples were italian sausage. Very delicious! I talked to them for a while. I asked each farmer about how they raised their animals, how they fed them, medicated, processed and handled their meats. I asked them if they had a website I could share or a Facebook Page I could friend and told them that I write blogs, recipes and reviews and would like to give them a mention. One of the ladies just kept staring at me the whole time I was talking about clean eating and why I needed to know everything about the meats. Then just out of the blue she said, "You are beautiful". Totally caught me off balance. I told her how I had used clean eating to lower my blood pressure and to transform my life and that I had lost 111 lbs. in less than 2 yrs. A customer standing nearby heard our conversation and just stopped and said "You are beautiful." Maybe I should go without doing my hair and make up more often! This is working for me! LOL!
After a few more moments of conversation, the lady making the sausage samples said "Do you have a website, phone number or business card. I'd like to talk to you more about what I could do to lose weight and get in the best shape of my life." Hello! I'm feeling like an evangelist here! Everywhere I go I talk about how clean eating has changed my life and it is a message that so many people are hungry to hear! They can't get enough of it.
I'm now feeling ON TOP OF WORLD! I look around to see it the herb lady is there so that I can get some fresh basil and rosemary plants, but she is not there this week. Skip all the bakers and muffin makers. I am heading out the door when I see this jewelry display that has the most unusual jewelry made of reclaimed pocket watches, buckles, charms, etc. I am drawn in! Love jewelry. My eye immediately goes to a necklace that is a pocket watch face that has been filled with gemstones and has lots of turquoise in it. I scan the rest of the jewelry and keep coming back to this piece. It is big, I wonder if it's heavy. I wonder if it would look gaudy? I put it on and look in the mirror, before I can say what I am thinking, another customer says to me . . . only you could pull that off, you are beautiful. Guess who bought a new necklace! LOL!
Out of the market and on to the mall to search out and purchase a cast iron skillet! Score! Two! Both on sale!!! Then to the grocery store to pick up the veggies and fish I needed for this week.
When I got home I put away all the cold stuff, started cooking up some grub in my new skillet!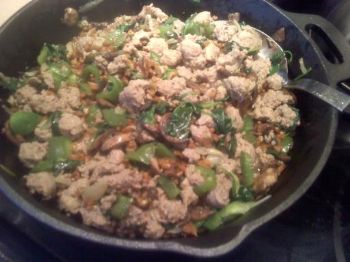 This is turkey sausage, green peppers, onion, mushrooms and spinach. I added in some cooked farro. Tomorrow morning I will put about a cup of this mixture into a ramekin with 4 egg whites and one whole egg and bake it for my breakfast!
I grabbed a quick bite to eat and was back out the door to do some cardio at the gym.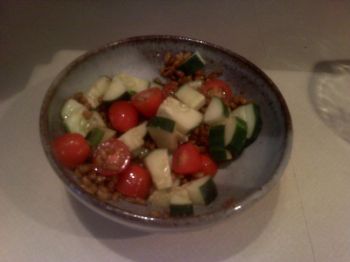 1/4 cup of cooked farro, 1/2 a cucumber, 5 cherry tomatoes, olive oil, balsamic vinegar and a squeeze of lemon. Yummo!
At the gym I realized I had forgotten my music. I am not a fan of long cardio sessions, but any cardio without music is like torture for me. But, I am a big girl, certainly I can discipline my mind to behave for 40 minutes. I have the new Athleta catalog with me and a clean eating magazine . . . I will just listen to house music and do my thing on the cross trainer. Folk music. Really? In a gym? Please. The most irritating folk music. I can do this. Or maybe not. I jump off the cross trainer before the first song is even half way through. I leave my water bottle and magazine on the trainer, grab my key and ID and run down the hallway, jump in my car and drive the three blocks home to get my iPod. Run back down the hallway and jump back onto the cross trainer. What can I say, I had a rare day that I felt inspired to get my cardio in and didn't want some guys choice in crappy music to blow it for me. 40 minutes on the cross trainer, 20 on the treadmill at a 7.0 incline, ended with some amazing yoga to stretch out my quads, hamstrings and calves.
I felt good! Ran a few more errand in town while I was up and 'running'. Came home to start my dinner and jump in the tub!!!! Checked into facebook to see how my friends were doing and found out that, thanks to some dedicated friends, I am at number 5 in the polls! There are 13 more days in the contest. It is feeling more and more like this is going to happen.
I have been working on some ideas and writing some plans that would help me to reach more people with the good news about clean eating and how we each have the power to make positive change in our lives and the lives of our loved ones. After the trip to the farmers market, I had several lightbulbs flashing off all at once, like paparazzi cameras. What if I put my testimony, before and after pictures, recipes and meal plans into a small spiral bound 'book' (that part I have been working on) . . . but, what if I teamed up with the local growers and sold this book at the farmers market? Do you think people would be interested? I'm getting to be know as the clean eating girl in town. I could think of worse titles!!! LOL!
Give me some feed back. Help me brainstorm this.