Otherwise known as a bikini blog! If I put the word bikini in the title I get more gawkers . . . hmmm . . no! The idea behind the bikini blogs was to 1. Help me become more comfortable with my body and accept it as it is, less than perfect, but mine. 2. To encourage, inspire and motivate others who have a lot of weight to lose, that you can have a somewhat normal shaped body without having to have surgery (maybe you will, maybe you won't). 3. To encourage those who have more than 23 % percent body fat that life goes on, enjoy wearing a bikini! Enjoy feeling sexy in the body you are in. Don't think you have to get to an 18% body fat (or lower) in order for your life to start! Start living the life you want TODAY! Whatever size you are at. This day will not repeat. You get this day to be this size and do these things. You will never be exactly this weight doing exactly these things ever again.
That last line is one that has played in my mind every since I started this journey almost two years ago. When I was training for my first half marathon, I thought I will never again be 220 lbs. training for my first half marathon . . . I better make it count. And I did. When I trained for my full marathon, I thought I will never again be 165lbs. training for full marathon ever again. It doesn't have to be a BIG event, it can be a daily event. I will never again wear this dress and have it fit EXACTLY the same. My two big favorites are coming up in less than 7 weeks! I will be wearing my new size 8 dress (too big in the top, and sticking to my hips right now) to my son's graduation! And the following day I will be wearing a dress that is now too big for me and needs to be altered to his wedding. I get ONE shot at those events. I don't get a do over at those pictures that will be in our family album for years to come. I want to do that to the best of my current ability, knowing I gave my all.
Okay, here my two week progress stats:
Starting Weight: 161.4
Current Weight: 156.8
Weight loss: 4.6 lbs.
Bra Band: down .5
Bicep: down .25
Waist: down . . . drum roll . . . 2.25 inches! YES!
Hip: down . . . 1.75
Thigh: down .25
I was not going to post my pictures, because I was not sure the difference showed. But, then my husband put them up on a big screen and enlarge the side by sides and showed me exactly were changes were happening and this morning measurements confirmed his observations. Oh, and my saddlebag area is getting smaller! That is my widest area, wider than my hip. It is also the are that I really need to shrink a little more to make my dresses fit nicely for graduation and wedding events. Shrink . . shrink!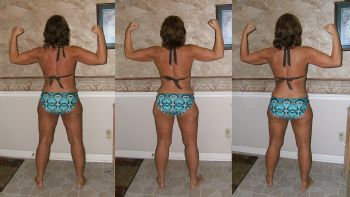 Look right above my bikini bottom (muffin top) is shrinking! So are the side curves of my waist.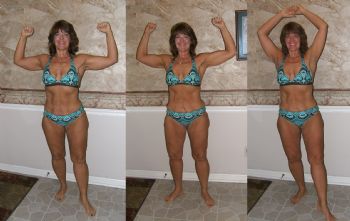 Top inner thigh at the hip flexor is getting leaner.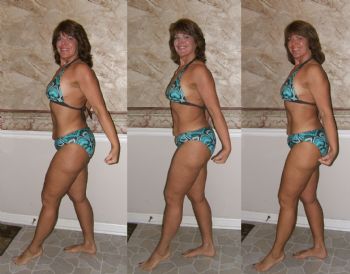 A little muscle is trying to show right above my knee and the saddlebags are shrinking!
There ya go! That's what can happen in two weeks! Just two weeks and I've lost a total of 5 inches . . . at the measurement points . . . who knows at all the points inbetween! I am excited for the next two weeks and feel like a pro at this! I'm already planning my follow up challenge for myself! I think I'm going to do the Oxygen Bikini Body 28 day plan combined with Cooler 1/Cooler 2/Stripped menu plan. If anyone is interested in doing that plan with me, let me know. The Oxygen Bikini Body edition is on newstands now with Jamie Eason on the cover. It is book-a-zine (paperback book style magazine). The new plan will start for me on April 25th.
I'm looking forward to an amazing summer, and a new swimsuit! Bring on the flip flops and sunshine!