Today I had the busiest day I have EVER had!!! I literally did not have a moment to do anything other than my job! During my lunch break I usually blog, but today I read one blog and spent the rest of the time taking care of the customer requests. I ate lunch at my desk, which I usually do anyway. I don't think I did a food blog yesterday so, I will put a up the pictures that I have taken over the last two days.
Monday Breakfast:
Love it! Be the Master of Your Frittata! I picked Farro, had leftover yellow squash, onion, and orange bell pepper. I decided to use the ingredients to make an Asian inspired stir fry veggie and farro bowl, topped with egg whites and one whole egg over easy. This is one of my favorite breakfast styles.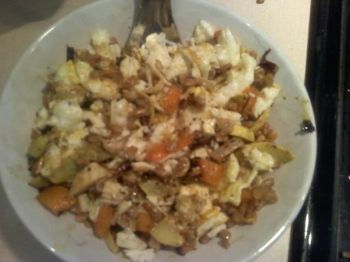 Yummo! What is not to love about that combination?!
Monday Morning Snack: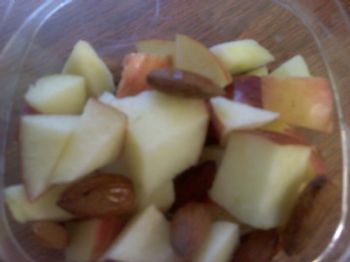 Chopped up Fuji apple with almonds, so sweet, crunch, satisfying!
Monday Lunch: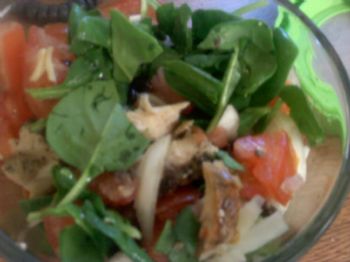 Baked chicken breast, raw spinach, with onions, tomato, black beans & lemon!
Monday Afternoon Snack: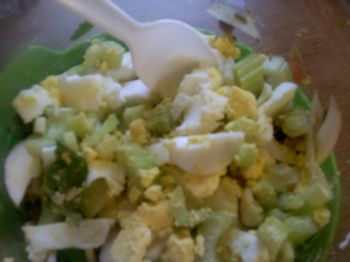 Two hard boiled eggs and celery a la Carolyn style! I chopped them up into my salad bowl from lunch which had a little residue of tomato, onion, lemon and black bean. Super idea! So glad I thought of it! It was yummy!!!
Monday Dinner: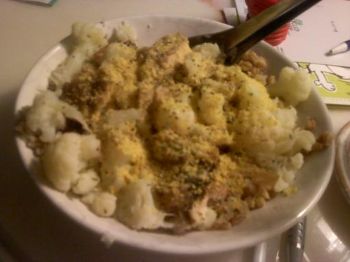 Dinner was about using what I had to meet the requirement. Menu said Turkey, steamed broccoli and brown rice. I had a grilled chicken breast, steamed cauliflower and farro. I mixed it all together. I sprinkled it with nutritional yeast.
All and all a yummy day!
Tuesday morning my beloved oatmeal was back on the menu!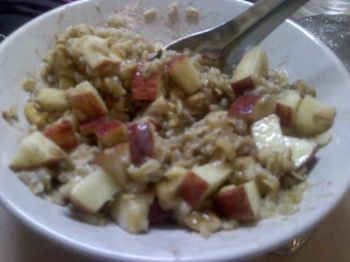 Rough cut oats w/cinnamon and a chopped Fuji apple
I also had 4 scrambled egg whites
Go Green Smoothie! A little chunky today, but still yummy! Mix of parsley, kale, pineapple, avocado, almond milk, fresh ginger
Lunch today was cream of leek and potato soup and a grilled chicken breast
Yummy Pick Me Snack of chopped strawberries and cashews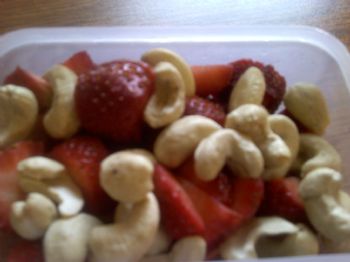 After work my hubby and went for a 3 mile run. Hills, lots of them! It felt rough near the end, but we had a good pace. I was STARVING when I got home. My hubby started dinner while I went and soaked in the tub. Unfortunately, that means that he put on a pot of white rice. I did have a little farro leftovers in the fridge but, it was the butternut squash risotto . . . I was hungry and it was mine. Tilapia was substituted for the trout and brussel sprouts took the place of broccoli! Very yummy, very satisfying. . . had to be creative, but I think I did okay.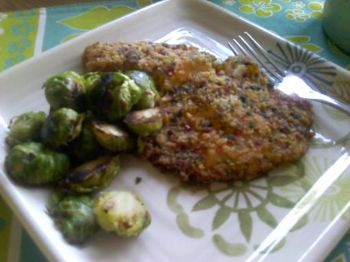 There is the Stripper plan for the past two days. Now to the strong part. Today I had to reassure my mommy that I was a strong girl and she didn't have to worry about me ever using food to drown my fears or feelings. See, my mommy is a super strong lady who doesn't like others to see her cry or to know that she is afraid. I had a feeling over our last few phone calls that she has been holding back her fears and feelings about the tests that she has had to have to examine some spots on her lungs. I know, I can feel it, she is afraid. Who wouldn't be. My mom is also super proud of me and all the opportunities available to me and doors that are opening for me. I wanted my mom to know that no matter what the test results show, I am here for her, I am strong, and she can lean on me. I won't fall apart. I know who I am, I know my purpose, my passion and no amount of fear or sadness can undo that or derail me. Whatever this next chapter has in store for me or my mom, I know that we will face it with love, compassion and a deep appreciation for the relationship with have with each other.
Strong is, knowing when you need help, knowing who you can count on and knowing when you need to lead and when you need to lean.
Lean on me . . . I'm strong.