LOL!!! Sorry, I'm not so creative today! I had a fabulous day yesterday!
Must be all this clean eating!
I have been running myself ragged for the past week. So yesterday my hubby 'challenged' me to just come home after work and make time to relax. . . . ummmmmm, yea. That's hard for me. But, I wanted to spend some time with him when I wasn't exhausted. So, I used my lunch time to get in my weight lifting. Since it was back and shoulders I knew I could do it without getting all sweaty and stinky. I would normally do a HiiT session with my upper body workout, but opted to skip it for the day.
I was not feeling so awake and with it in the morning and really did not want to go to the gym at noon. I kept thinking . . . "by the time I get to the gym, change clothes, get out my training journal, set up, etc I won't have much time to get a workout in before I have to repack my bag, change clothes, freshen up and get back to my desk".
BUT, I said I would, so I did.
I'm glad I did! There were only a couple people in the gym! I was able to set up my stations and get through a four exercise circuit with 4 sets of 12 each in a short time. So, I started another circuit of three exercises of 3 sets of 10. Finished up with some walkouts and push ups.
After my workout I felt fabulous! Energized and focused! I think I will do that on Wednesdays for now on!
After work I went home, cleaned up the kitchen so I could start dinner. I actually like organizing my kitchen and cooking, so this doesn't feel like work . . . but it does take time.
I mixed up some ground bison with some seasonings, chopped up my sweet potatoes, leeks, and carrots, put them in some foil with some macadamia oil, rosemary and cinnamon! So delicious!
Now that I am talking about food, let's see some yummy clean foods!
Breakfast was that yummy oatmeal with mango, unsweetened coconut, almond milk and pecans!!! So, so, so delicious! Sorry, no pic today!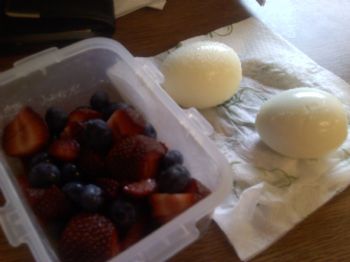 Morning snack was hardboiled eggs and mixed fresh berries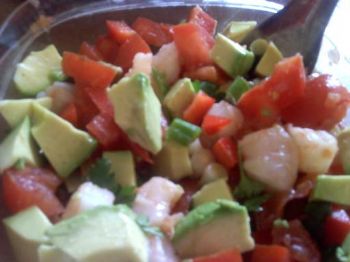 LUNCH!!!! Shrimp Ceviche with avocado! mmmmmmmmmm!
Afternoon snack was albacore tuna with a pear chopped up in it! You need to try it! Love them together!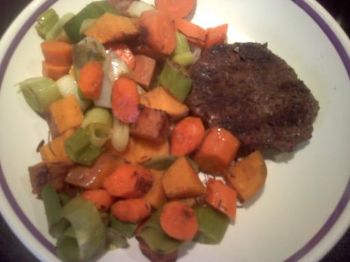 Dinner!!! Bison burger w/grilled veggies! Super nice!
I opted to not drink my night time casein shake because the optional snack for the night was an apple and almonds! YUM! Sweet yummy fruit!
That was my delicious day!
Thank you to all who voted for me today in the Performing Beautifully contest on Facebook! When I was sent the link and filled out the entry form, I was really excited because the essay questions were about the network of people you inspire and who inspire you. What keeps you motivated and how do you keep momentum. It was only after I submitted the entry that I realized it was one of those 'popularity' contests where your friends vote for you. I was bummed at first because I don't do things to be popular or to be liked by others. I do things that are right for me and help me in my growth and development. I do things that get me closer to my dreams and encourage others to do the same. I would like to win the prize, believe me, I want it. Here is why I want it. I am not a fitness model, I am not a bikini competitor, I am not a bodybuilder . . . I am an every day person who started this journey to save her life, lower her blood pressure and not have to think about my young sons breaking their backs trying to carry my coffin. Sorry, sounds harsh, but it is true. I want to win to show that life does not end at 40, you don't have to be model thin to succeed, and your best days are yet to come!
apps.facebook.com/performbeautifully
/contests/99398/voteable_entries/19408
847?ogn=facebook
Whether you vote for me or not, I encourage you to set huge goals, reach for what you want and dare to step out of your comfort zone.
Live beautifully!!! You only get one chance to be you! In this moment, on this day, vow to be your best self and you will win every day!