Weekends seem to go so quickly. I cherish every moment and try to get the most our of every minute I have with my husband. I feel torn between what I want to do and what I need to do. I'm sure others have this same dilemma. The laundry, housework and grocery shopping get in the way of writing menus, making new recipes, reading and research, which get in the way of time to take a nap and hang out with my hubby.
Thankfully my hubby is totally supportive and super understanding about all that I am trying to accomplish, learn and do. I feel a heightened call to spread the word about the benefits of clean eating. My body and health have continued to change, heal and improve beyond what I could have ever imagined even a month ago. Going to the Arnold Festival and meeting Tosca and the eat clean team solidified some things for me and helped me to take things to the next level. I have been eating clean for over a year now. When I had the chance to go meet Tosca, I intensified my commitment and went on cooler 1 program from her Recharged book. I loved the foods and felt fabulous. I was able to go to the Arnold that day knowing I had done everything I could to look and feel my best on that day. I felt confident, strong and healthy.
At the Arnold I purchased the Stripped book and made the commitment to stick with it for 28 days. Just a couple months ago, I had resigned myself to the idea that my body was at it's set point and was as good as it was going to get. Don't get me wrong, I was not unsatisfied with my body, just not looking for more improvement. Well, after cooler 1 I could see differences. They were minor, but there were changes. Now after week two of the Stripped program, I can tell you there is no such thing as Too Late for Change.
Since I have this 'calling' to share this message, I need to make sure that I am always prepared for any opportunity that might come along. How sad would it be to find out that a dream come true opportunity was available to me and I was not in the shape that I needed to be to take advantage of that opportunity. I think of my oldest son, when he was on the kidney transplant list. It was important to do all the pre-prep before he was listed to make sure he would be ready for the opportunity when presented. All immunizations were updated and his wisdom teeth were removed. These things were important to minimize risks of infections and illnesses after a transplant. Once he was listed, it was important to keep him healthy, strong and ready to an opportunity for a better quality of life. We couldn't just focus for a week, or a month . . . this was a lifestyle. Living life always prepared for the chance of a life time.
Let's talk about food, because it is improving my quality of life!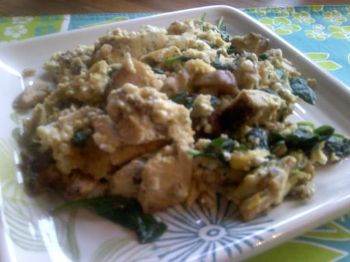 Breakfast this morning was Be the Maser of Your Fritattata! Love it when I get so many choices. You get to pick your choice of proteins from a list, your veggies, and your starch. I selected farro for my grain since I make a whole pot and keep it in the fridge and it is my favorite grain! Protein was grilled chicken. Veggies were spinach and mushrooms. Yummy! Yummy! Yummy!
Snack: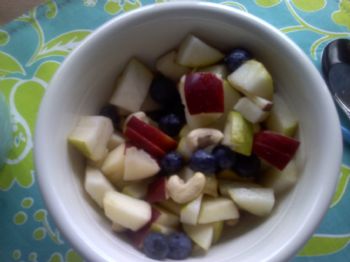 Apple, pear, blueberry and walnut with a squirt of lemon . . . delicious! This is now one of my favorite snacks!
Lunch: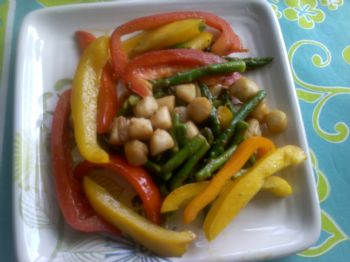 Scallops a la Plancha with Sauteed Asparagus and Peppers! So tasty! I only had the baby scallops. I loved this lunch.
In the late afternoon I went to the gym to do my bicep, tricep and ab workout. It was a long set. I was late getting my afternoon snack. As I left the gym I was just amazed at how beautiful the day was. The sun was warm and there was a slight breeze. I wanted to be outside! I was excited when I got home to find out that my hubby and doggy were more than willing to join me for a walk. I made my snack and ate it as we went for a leisurely two mile walk. Oh, snack was albacore tuna with an apple chopped up in it.
Dinner was equally delicious today!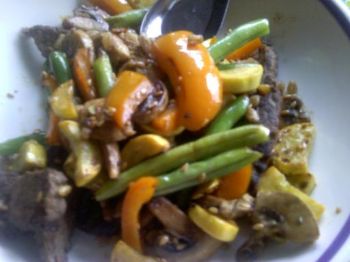 Stir Fried Ginger Beef! I had leftover Chinese 5 Spice organic steak in the freezer so I used it for this dish. I do not own a wok and was missing a few of the spices used in the recipe, but it was simple to improvise. I sauteed mushrooms, yellow squash, orange pepper, garlic and ginger with green onions. It was a good day!
When an opportunity is presented to you, will you be ready for it? Or will you be wishing that you hadn't given up. Is your health, your body, your goals more important than those 'things' you think you are giving up . . . like fried foods, snack foods, sugar. I won't sell myself short. I won't give up on my dreams or sell them out to something as silly as convenience. It was inconvenient to take my son to countless doctor appointments, procedures and blood draws in labs. It was inconvenient and painful for him to go through all the tests and being catheterized countless times in his young life. But, it was all worth it when we got the call that there was a kidney available. I will be ready for the next opportunity . . . will YOU?