Super quick blog so I can head to the gym and get my Boom Boom Pow workout in tonight before dinner!!!
Starting Weight: 161.4
Current Weight: 153.0
Weight lost: 8.4 lbs.
Bra Band: 33 (32) -1 inch
Bicep: 11.5 (11.0) - .5 inch
Natural Waist: 32 (29.25) - 2.75 inches
Hip: 40.5 (38.25) - 2.25 inches
Thigh: 20.75 (20.5) - .25
Calf: 15 (14.75) - .25
Looks like 7 inches lost! Good month!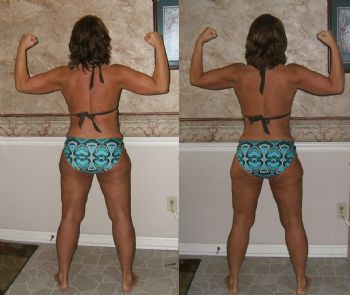 Before Stripped Plan vs. 28 days later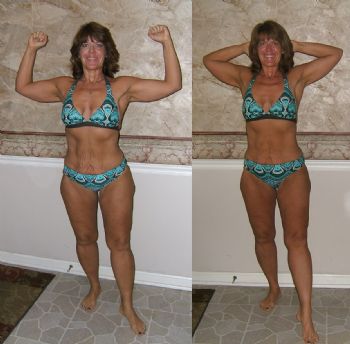 This used to be my least favorite angle to be photographed in a bikini and I would cringe when Ruben asked to post them publicly. Now, I think this is my favorite.
I'm liking what I'm seeing here and it encourages me to continue to work towards my best body NOW!!!!
So, what now? This morning was my first meal off plan in 28 days. I had already pre-planned my day and packed my foods the night before. I had an Ezekiel English Muffin with scrambled egg whites, spinach and laughing cow cheese spread and one kiwi.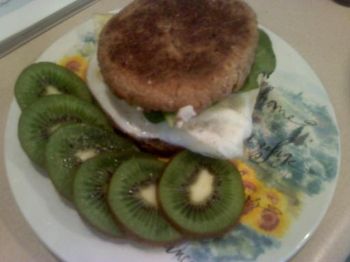 When my son (24) saw me eating breakfast
he said "I thought your 28 days were over today"
I said "they are"
He said "Then why the hell are you eating THAT"
I replied "because clean eating is my lifestyle, not a 28 day diet".
He just shook his head as he walked away mumbling "whatever". LOL!!!
I am just so pleased with how my body is looking and feeling and I have no desire to stop the momentum that I am feeling. Will I go off 'plan' . . . yes and no . . . I have planned an indulgence for tomorrow night with my hubby, which I PLAN to enjoy! The following day I will pack my cooler as PLANNED and enjoy my clean whole foods.
BTW . . . I was sooooo excited to be able to have some greek yogurt today. I packed some seeds, nuts, dried fruit and 1/2 an apple to chop up and toss in a couple tablespoons of my favorite greek yogurt. It actually did not taste as good to me as I thought it would. As a matter of fact I was thinking "this would taste much better without the yogurt. LOL!!!
Here is a peak of my one year progress, just to show you change can happen at any time and it's NEVER too late!!!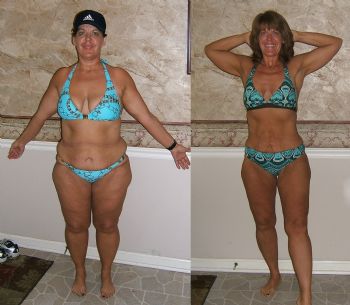 Live beautifully! Be YOU!